View this post on Instagram
Garage doors are one of the most-used fixtures in your home — as one of the primary entrances to most people's houses, it's estimated that garage doors are opened and closed at least 1,500 times per year.
Since you likely use your garage door every day, you want to guarantee that your door and opener are safe, reliable and efficient. At DoorPros, we specialize in a variety of commercial and residential garage door services throughout the Bay Area, including door installation, maintenance and repairs. We use only the highest-quality tools and equipment for all of our services and offer our customers the best products from trusted brands. We also provide labor warranties and free project estimates for your convenience.
Enjoy comprehensive, top-quality services throughout the San Francisco, Marin County, San Mateo, East Bay and Sacramento areas when you trust the professionals at DoorPros with your garage door needs.
Residential Garage Door Services
A new garage door for your home can improve daily convenience and functionality, increase overall home value and modernize the exterior of your home. DoorPros stocks a large selection of long-lasting, high-quality and beautiful garage doors from Clopay — the leading residential garage door manufacturer — crafted from materials including steel, glass, aluminum and wood.
Each of our garage doors is rigorously tested to withstand extreme temperatures, weather conditions and environments to ensure lasting dependability, protection and appearance. For added functionality, ask one of our experts about our construction upgrades such as energy efficient insulation.
Garage Door Maintenance Services
Are you looking for a way to keep your garage door in pristine condition and avoid costly, inconvenient breakages? Regular preventative maintenance performed by one of our garage door technicians at least once a year can save you money on emergency costs, reduce safety issues and extend the lifespan of your garage door system.
During a routine maintenance check by DoorPros, we'll check for signs of wear and corrosion, lubricate moving parts, test door balance and visually inspect your opener. As needed, we'll make repairs or upgrade recommendation to improve your garage door operations.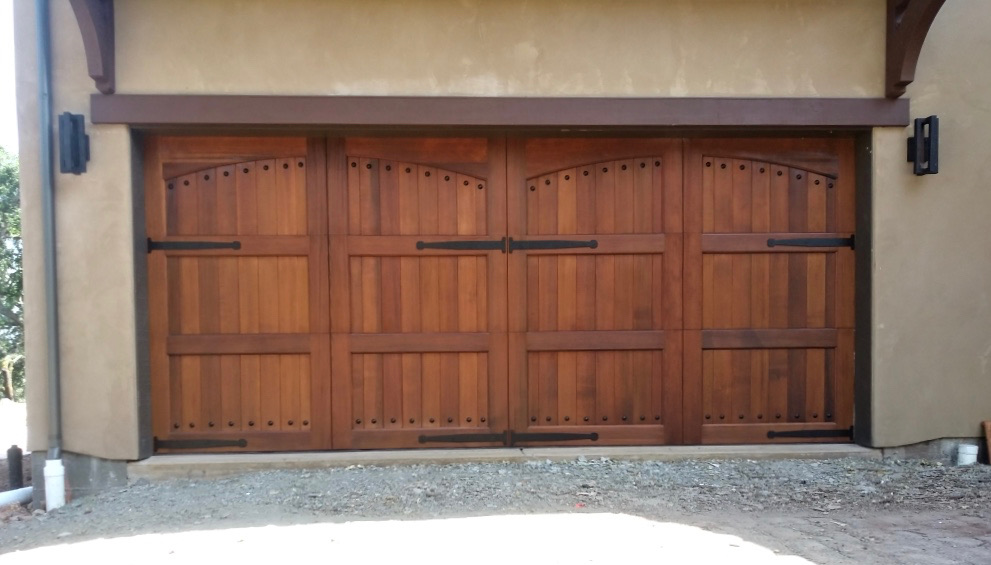 Reliable Garage Door Repairs
With consistent daily use, it's common for garage doors to succumb to wear and tear over time. Our team of trained and skilled technicians can perform comprehensive repairs to any garage door make or model using only the best parts and tools available for lasting results.
We complete several types of residential garage door repairs, including damaged panels, broken springs and cables, bent tracks and garage door opener malfunctions. When you trust DoorPros for your repair needs, you're assured reliable and safe garage door operation for many years.
Commercial Door Replacement and Repair
At DoorPros, we understand how important a properly working commercial door is for your business, which is why we offer a wide range of commercial products and services for business owners throughout Sacramento and the surrounding areas, including San Francisco, San Mateo, Marin County and East Bay. We provide high-quality commercial overhead door products for several industries, including warehouses, universities, restaurants, fire stations and storage facilities.
To keep your door functioning smoothly, safely and dependably, rely on our trained technicians to perform commercial door repair and maintenance services. We can repair nearly any type of issue, including damaged tracks, broken panels, misalignment and worn hardware. And, by utilizing our comprehensive maintenance services every three to six months, you can save money on repair costs and prolong the lifespan of your garage door system.
Garage Door Service Areas
We offer a wide range of services for the following areas:
Garage doors in San Francisco: DoorPros has been serving San Francisco for more than 10 years. We offer 24/7 repairs and same-day service for San Francisco, Daly City and the surrounding towns. Call us today at 415-906-5560 or fill out our convenient online form to request more information or a quote.
Garage doors in San Rafael: For garage door services in San Rafael and throughout Marin County, DoorPros has the trusted professionals you need. We provide installation, maintenance and repair services for commercial and residential garage doors. Take advantage of our free estimates and 90-day labor warranty.
Garage doors in Sacramento: We have been serving the Sacramento area for more than 20 years, providing garage doors repair, maintenance and installation services. We offer an exclusive stock of Cloplay® doors and Liftmaster garage door openers. Call us today at 916-765-7002 for a free estimate.
Garage doors in San Mateo: For more than 20 years, DoorPros has provided high-quality residential garage door services to San Mateo and the surrounding areas. Our trained specialists can help you select the perfect doors for you needs, style and budget.
Garage doors in Carmel: In the Carmel area, we repair and replace residential and commercial garage doors. There are many benefits to working with us, including personalized service, warranties and more.
Trust DoorPros for All of Your Garage Door Needs
When you need comprehensive and knowledgeable residential or commercial garage door services in Marin County, San Francisco, San Mateo, East Bay or Sacramento, trust the experts at DoorPros. Learn more about our wide range of garage door services today by calling 650-542-7060, or complete our online form to request an estimate.